Create compelling messages.
It shouldn't be this hard for you to succeed have a killer business.
Let me guess. You are overburdened with a bunch of open tasks right now. You want to give your attention to a new goal or project, but responsibilities just keep piling up.
At this point, you are probably dissatisfied with what you're able to accomplish by yourself.
You want to win; to get this done. But how?
It is impossible to conquer fresh goals with stale thinking.
Is there a ticking clock echoing in your head, urging you to solve challenges like:
Outlining a 5-year plan that gets you excited to get out of bed
Recognizing who is really your ideal, profitable client
Consistently attracting right-fit prospects (and talent)
Understanding why your pitch doesn't get better results
Creating content that your prospects thank you for
Knowing how to grow a business that defends your personal life instead of disrupting it
Create a 5-part marketing system to grow your business.
With guidance from StoryBrand + instant coaching from #provokebetter's Whitney Hahn,
you'll rapidly develop a set of clear messages that connect with customers.
Your Next Chance to Fast-Track Marketing Results Starts in:
Want this feeling? It's within reach!
Select the coaching, consulting, or training services you need to conquer the challenge in front of you.
Consulting
Short on time or talent? Bring in an expert with specialized experience to help you refine website copy, add power to your pitch deck, explain it with video, or create a whole sales funnel. [MORE]
Inject your toolkit with new ideas, approaches and techniques. From lunch-and-learn seminars and webinars, to custom workshops and training, you'll leave ready to act. [MORE]
It's Time. Take the First Step.
1. Think it Better
Get unstuck. We equip you with fresh ideas, help you sort through options, and plan ahead. You will accelerate the impact you make, the revenue you generate, and the fun you have doing it.
2. Say it Better
Written or spoken, become a powerful communicator. From website copy and social media to speeches, press releases and pitch decks, we help you create compelling content.
3. Launch it Better
Even amazing materials are useless if they aren't properly used. Discover the techniques and structures that have helped our clients clear the clouds and generate blue sky returns.
Stop spinning your wheels, guessing about what will work.
Instead, get strategic insights, tactical clarity, and fresh ideas for your marketing plan.
"I was frustrated trying to figure it out on my own.
Just 6 months after coaching started, I hit The Big Number – the amount of money I really wanted to make but didn't believe I could.
I'm not struggling anymore."
Christa Mobley
Inner Lift Organizing
"I had just a few hours to attend the workshop before an important pitch meeting for my startup.  I was able to communicate technically complex ideas in ways they could easily understand.
The meeting turned a prospect into a pilot program, and I am in talks with several folks about investing."
Daemon Price
Meridian Technology Solutions
"Before my pitch consultation, I was focused on my nonprofit's history instead of the future potential. I applied the messaging framework to refine the marketing materials and my pitch.
The results? Better relationships with community partners who can see the benefit of joining forces."
Mary Ellen Mitchell
Housing Frederick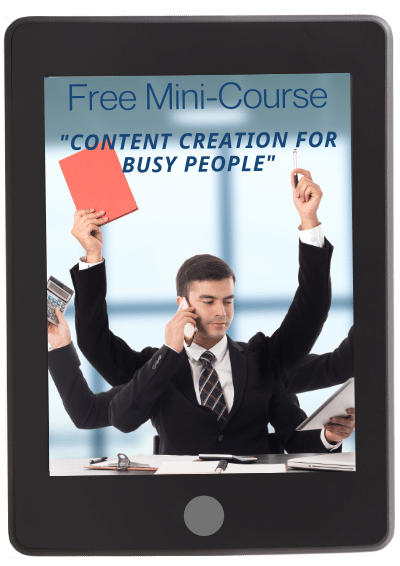 Learn the same techniques I use to help organizations create compelling content – the type that helps them routinely see 3-5x previous results.
If you are overwhelmed by the time it takes to create strategic, compelling content, you are in the right place.
In "Content Creation For Busy People," a 6-part Snackable Series, you will discover my tried-and-true methods to outline a year's worth of content in just one day, including:
Get to really know your Target Audience and what THEY want
How to use Message Modules to mix and remix elements of your communications plan WITHOUT causing confusion
Which Message Modules to use to quickly blueprints everything from an elevator pitch to a video script